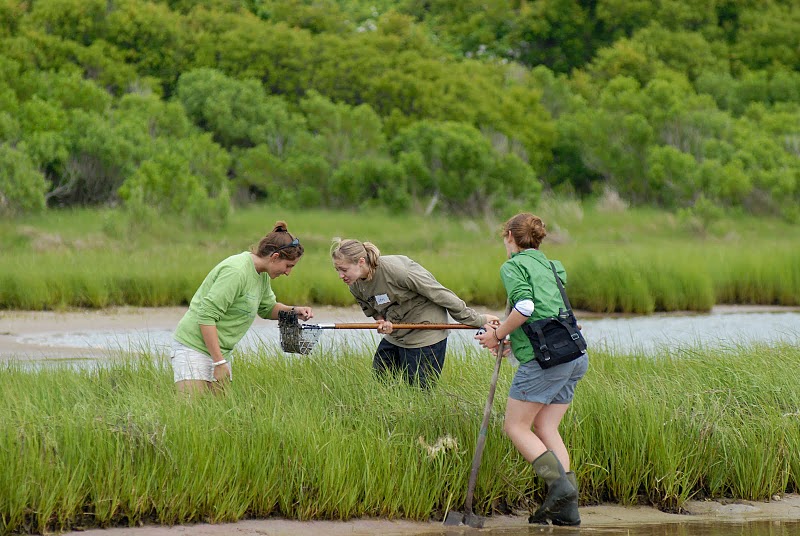 In a BioBlitz, volunteers working in teams have 24 hours to tally as many species of animals and plants as they can on a particular parcel of land. The goals are several: 1) to demonstrate that biodiversity is important here at home, not just in distant places; 2) to show by example how field biologists and naturalists learn about species and the environment; 3) to encourage communication among people who share a curiosity about the environment; and 4) to survey the species on the property for the benefit of the landowner for planning and conservation purposes.
The Rhode Island Natural History Survey organized the first Rhode Island BioBlitz in 2000, held in Roger Williams Park, in Providence. There, 33 volunteers found 663 species. Since then, Rhode Island BioBlitz has been held annually, moving around the state. A typical year draws 150-200 participants from throughout the northeast and identifies 900 to 1,400 species, depending on site, weather, and the expertise on the teams.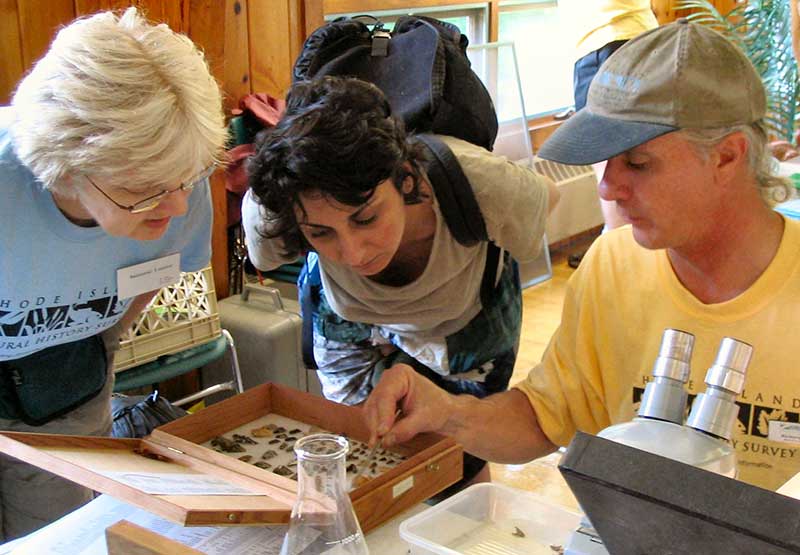 For safety and ease of organization, all participants in a Rhode Island BioBlitz must pre-register with the Natural History Survey, sign a liability waiver, and agree to follow rules tailored to the circumstances at each event site. The events are organized by teams and all participants must be assigned to a team. For more about how the Rhode Island BioBlitz is conducted, including how we count species, what the teams are, and resources for the teams, visit the BioBlitz Team Page.
The Natural History Survey welcomes suggestions for BioBlitz sites. The ideal site is between 100 and 800 acres, contains diverse habitats including at least meadow and fresh water, and can accommodate a large event tent, overnight camping, and parking for 50-100 cars. A BioBlitz site must be in some type of formal conservation (land trust, conservation easement, federal, state, or municipal park, etc.). An enthusiastic local partner organization is critical. Full criteria are included in our Nominate a BioBlitz site 1-pager (PDF). If your idea could meet the criteria, contact the Survey to discuss the possibilities.
Rhode Island BioBlitzes (town/property)
2019 Providence, Roger Williams Park
2018 South Kingstown, Camp Fuller
2016 Hopkinton, Kenyon Crossroads Preserve
2014 Warwick, Rocky Point
2013 Narragansett, Canonchet Farm, Narrow R.
2011 Scituate, Joslin Farm
2010 Block Island, various on Corn Neck (north end)
2009 Glocester, Sprague Farm
2008 Westerly, Grills Preserve
2007 South Kingstown, Trustom Pond NWR
2006 Cumberland, Cumberland Monastery
2005 Bristol, Mt. Hope
2004 W. Greenwich, URI Alton Jones Campus
2003 Tiverton, Pardon Gray Preserve, others
2002 Exeter, Eppley Wildlife Sanctuary
2001 Middletown, Norman Bird Sanctuary, others