Date: June 10-11, 2022; 2 p.m. to 2 p.m.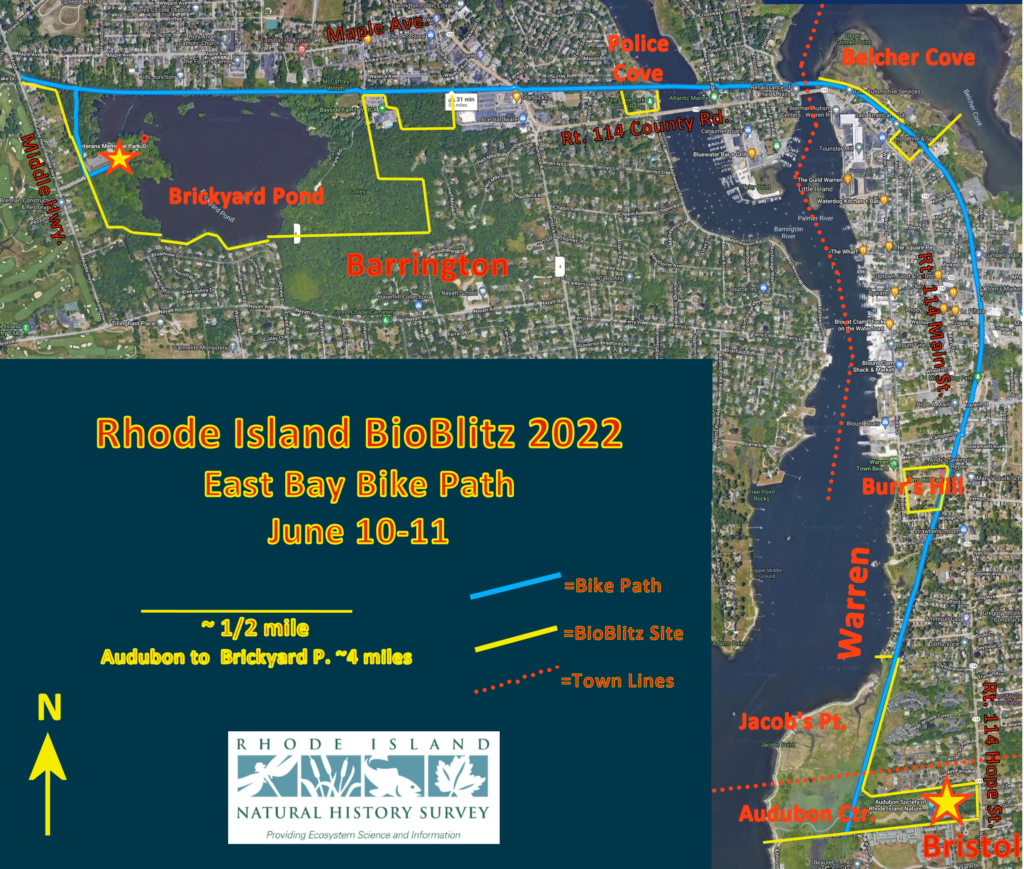 Location: Along the East Bay Bike Path between Audubon Society's Nature Center & Aquarium in Bristol and Brickyard Pond in Barrington.
We've never tried a Rhode Island BioBlitz like this: what biota live along 7 km (4.37 mi) of the East Bay Bike Path and the conservation parcels strung out along it?
Registration is closed.
Science Central will be at the Audubon Nature Center & Aquarium at 1401 Hope St. in Bristol, with a mini-Science Central at Veteran's Memorial Park at Brickyard Pond in Barrington. Contemplating rising sea levels and the low-lying sites of this event, participants are encouraged to cut their carbon footprint by bioblitzing by bike or by foot. Or travel by bus: the RIPTA #60 bus goes the whole length of the event along Rt-114. For info on RIPTA and the BioBlitz bus.
All participants need to be pre-registered and signed up for a team. Though there will be things for public visitors to see, there will be no walk-ins for participating in the event. If you're not familiar with BioBlitz and want to learn more about it, you can view a recorded BioBlitz orientation on the Survey's YouTube Channel.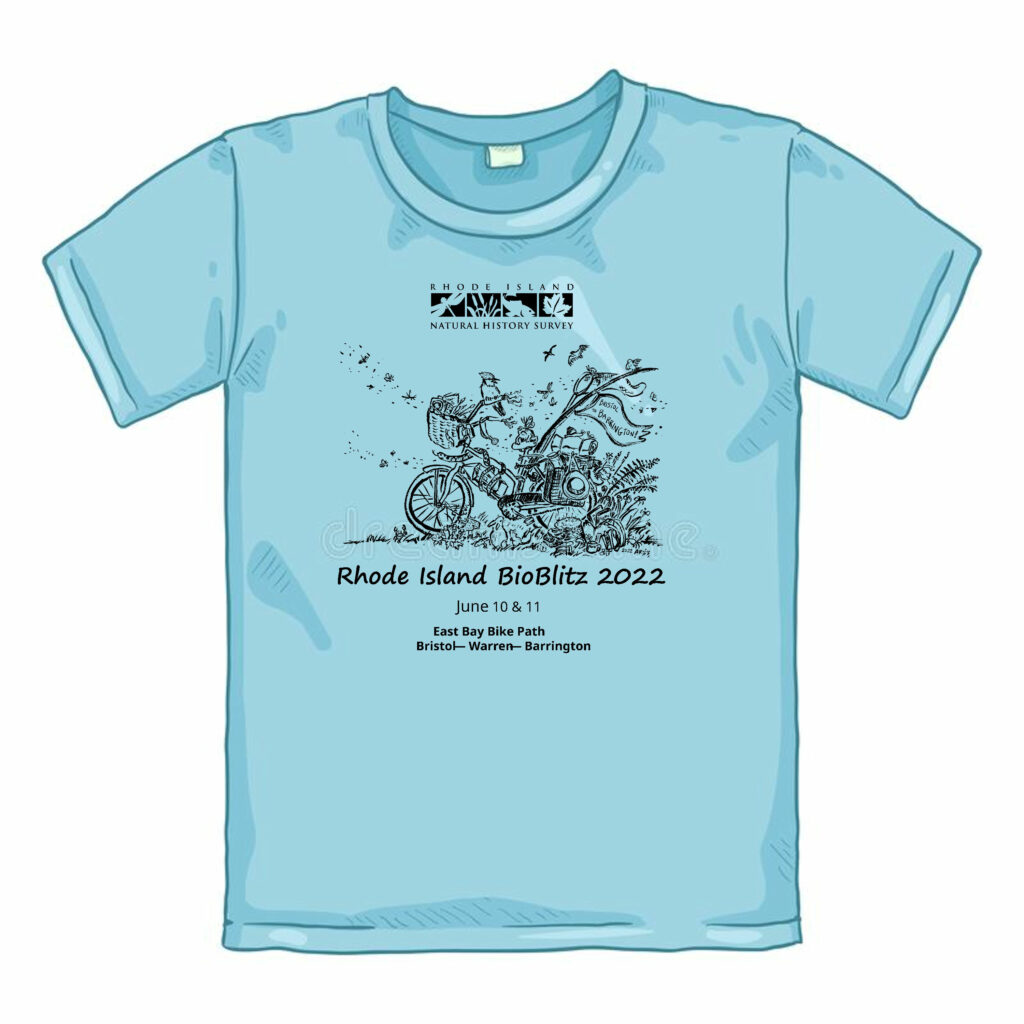 "Inbounds" for this bioblitz will include the bike path itself out to twice the width of the asphalt on each side…total of 5 "bike path widths…or until you come to a private yard, which ever comes first and conservation areas/parks along it:
>the bike path between Audubon in Bristol and Vet's Park in Barrington, plus…
>Audubon Nature Center (Bristol)
>Jacob's Point Marsh (Warren)
>Burr's Hill Park (Warren)
>Belcher Cove Marsh (Warren)
>Police Cove Park (Barrington)
>Brickyard Pond Conservation Area (Barrington)
Watch a video preview of the RI BioBlitz 2022 sites to get a sense of the area.
RI BioBlitz 2022 FAQ as of 5-12-2022.
How are we going to count species across that wide area? As usual, participants will be organized into teams by taxon. See more info on teams here. In addition, we will be asking some teams to divide out their species lists by location. The following teams should generate species lists for each of the parcels listed above: all vertebrate teams (mammals, birds, fish, and herps), plus butterflies and odonata. All other teams should be prepared for unusual or noteworthy species to note the parcel. You can tag finds with the following parcel numbers in the "Notes" column of the RIBORF:
1 = Audubon & Jacob's Point
2 = Burr's Hill Park
3 = Belcher Cove
4 = Police Cove Park
5 = Brickyard Pond
6 = just along the bike path itself, in Warren
7 = just along the bike path in Barrington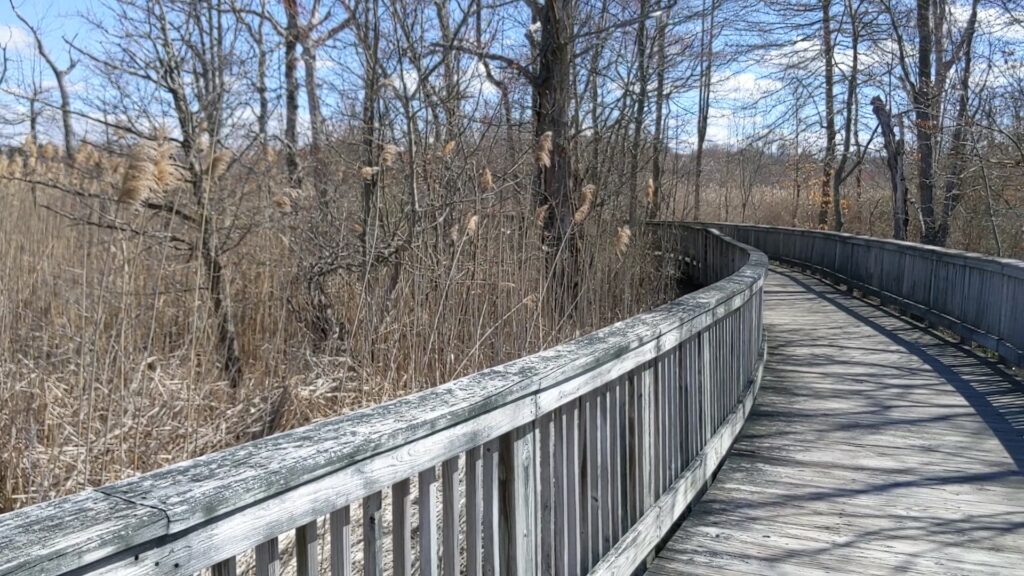 You don't need to be an expert to participate, just curious and willing to learn, whether you already have a specialty or you'd like to learn something new! There are art, writing, and video teams, too, because artists bring unique insights to exploration that you can't get from just a species list and because artists have been essential parts of natural history for hundreds of years.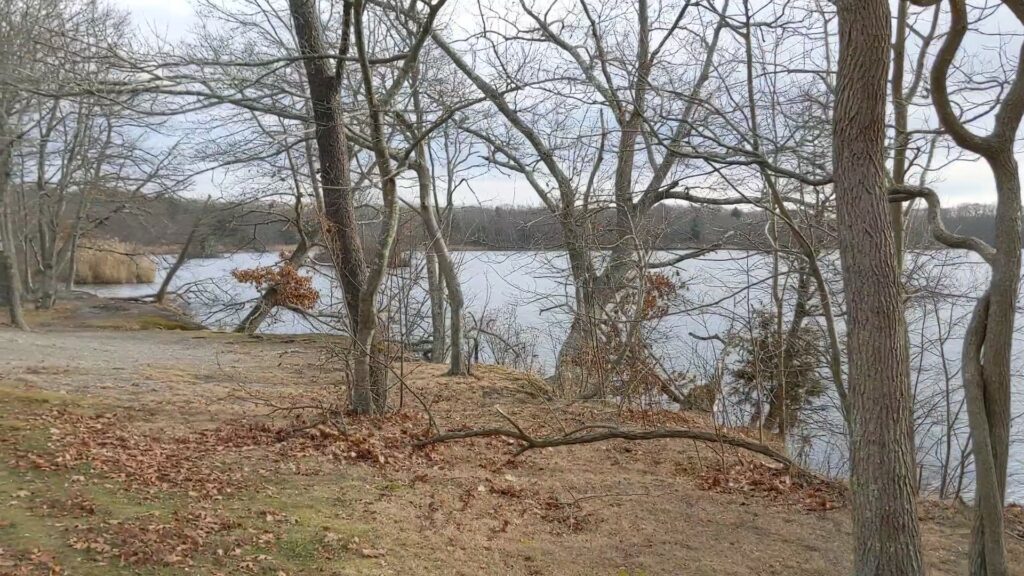 The idea is to put together different foci of interest and ways of seeing that can inform our understanding of the site, it's animals, plants, natural communities, ecological issues, and place in the world.
Sponsors for this year's RI BioBlitz include:
Roger Williams Park Zoo
Audubon Society of Rhode Island
Blount Clam Shack
Largess Forestry
Bristol Land Conservation Trust
Special thanks to:
Town of Barrington
Warren Conservation Commission
Warren German American Club
Massasoit Historical Association
and Helen Lusi