Upcoming Events
Lisa Lofland Gould Native Plant Program, Sat. Nov. 18 @ 1 p.m. URI Kingston, CBLS Building, Ryan Auditorium. Steve Castorani, of North Creek Nurseries, will discuss the native plant supply chain and challenges in sourcing and supplying native plants.
RINHS 2023 awards program, Sat. Nov. 18 @ 7 p.m. (w/ pre-event reception at 6), URI Kingston, Avadesian Hall (Pharmacy Building), Room 170. Address by Distinguished Naturalist Award recipient Peter Paton, "Life History of a Naturalist."
Last Wednesday of every month from 4 to 5 p.m. enjoy tea and casual conversation about things natural historical (and whatever else anyone wants to talk about). In person in Kingston or join via Zoom; contact Kira at the office to RSVP and for a link.
---
Grants made to fund small-scale but important research on Rhode Island's biota, geology, and natural systems. Supported by Survey members and friends.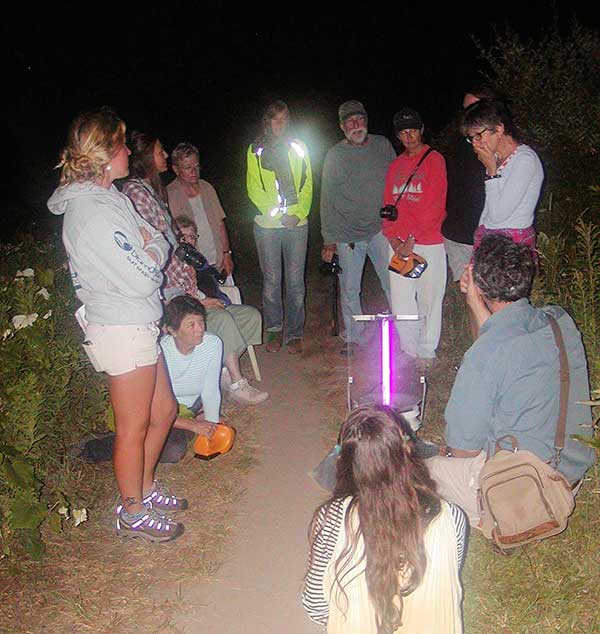 Lectures and similar "sit-down" programs are held several times a year at venues around Rhode Island.
Walks, workshops, and demonstrations give attendees a first-hand experience with particular aspects of natural history.
Members and friends mount exhibits in our offices of art inspired by natural history. Major exhibits open in conjunction with the annual Winter Open House.
When Lisa Lofland Gould, the Survey's founding executive director, retired, an endowment was raised to fund an annual event on native plants, her special expertise. The event is co-hosted with the Rhode Island Wild Plant Society and URI's Outreach Center.
. . . celebrates all the things we know because of natural history and the great natural history institutions around our state. Events coordinated across institutions raise the visibility of this important discipline.