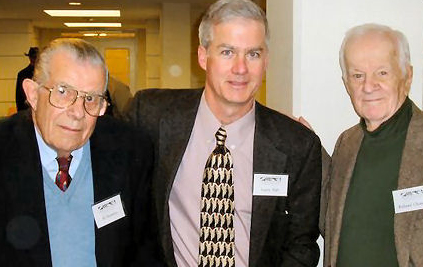 Lectures present topics in biological and environmental science to professionals and the public. Sometimes lecture topics are not directly related to Rhode Island but are intended to stimulate debate on important issues or catalyze interest in natural history generally.
Beginning in 1999, lecture programs have been identified as the Mark D. Gould Memorial Lecture Series on Rhode Island's Fauna, Flora, Geology, and Ecosystems, in memory of the late Roger Williams University ecology professor and Rhode Island Natural History Survey Distinguished Naturalist Mark Gould (1946-1999).
Lectures have included Lindsay Green-Gavrielidis on seaweeds, Greg Skomal on great white sharks, Robert Askins on scale in bird conservation, Elizabeth Farnsworth and Laura Meyerson on invasive plants, Noel Rowe on primates, Gary Alt on deer management, Tom Kunz and Susi vonOettingen on bat ecology, Jack Ridge on glacial geology, Taylor Lockwood on fungi, and many more.
The Survey hosts 3-4 lectures per academic year, often at the URI campus in Kingston but also at sites around the state. To find out about upcoming lectures watch social media for announcements, or sign up for the e-news.