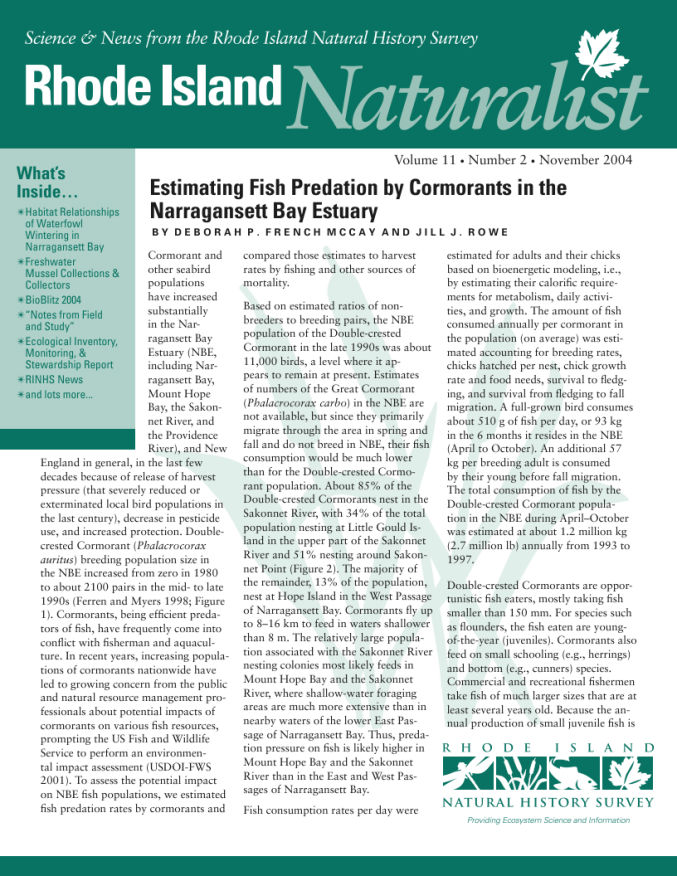 The Rhode Island Natural History Survey is excited to announce the return of its periodic publication, the Rhode Island Naturalist. This publication covers local natural history stories written by professional and amateur scientists and naturalists. The Survey will publish two issues per year, Summer and Winter. Initially, the Rhode Island Naturalist will appear as a PDF only. Future printed editions may be considered, depending on interest.
The purpose of the Rhode Island Naturalist is to help make information on the state's natural history more widely available. It provides a place where scientists can submit non-peer reviewed articles and where amateur naturalists and students can publish their natural history stories.
Articles on Rhode Island natural history are welcome, including:
• Stories about specific taxa;
• Results from field research;
• More informal field observations or "notes from the field;"
• Photos with short explanatory captions or "photos from the field;"
• Descriptions of natural history collections and databases;
• Profiles of prominent Rhode Island naturalists, historical and contemporary;
• Reviews of recent books related to Rhode Island natural history (plants, animals, habitats, geology, hydrology, soils, etc.);
• "Focus on…" pieces featuring one of the Survey's member organizations;
• History of natural history;
• Other photos, art, maps, or diagrams informative of Rhode Island's natural history;
• Any other information of interest to the ecological/natural history community
The submission deadline for the Summer issue is June 30; the deadline for Winter is December 31. Download Authors' Guidelines HERE.
DOWNLOAD a PDF version of this announcement and share it.
Stay tuned for more information.
Co-Editors:
Stephen Hale, stephenshale@gmail.com
Bob Kenney, drbobk@verizon.net