by Candace Oviatt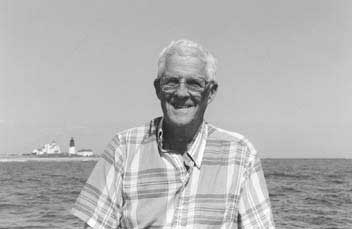 Prentice K. Stout has devoted his career to teaching, lecturing, wildlife photography, and writing. He has taught at all levels from kindergarten through twelfth grade, university, graduate school, and public education classes.
Prentice grew up in New York City where his father, Gardner D. Stout, was a Wall Street broker. As a hobby, his dad was a dedicated birder, particularly of shore birds. During summers the family escaped the city for the shores of the Shrewsbury River in New Jersey. Here, boats and wildlife became part of Prentice's life. He used a rowboat to explore the marshes and used a "Brownie" to film wildlife. His first photograph of an American Egret was so small that the shop volunteered to give him a new roll of film because they thought they had printed the picture with a speck of dust on the emulsion.
Prentice did his undergraduate studies at Denison University and took his first job at the First National City Bank of New York in the Officer's Training Program. But instead of staying in banking, his father's true love of nature led him into nature education. His father, upon retirement from Wall Street, served as president of the American Museum of Natural History in New York for ten years. No doubt his mother, Clare, also influenced him; she was an accomplished artist and expert conchologist.
Prentice's career in education began at Hotchkiss School where he was a high school instructor in geology and biology. He also helped design the biology department of a new science building. He then moved on to the Far Hills Country Day where he taught marine biology, botany, physics, chemistry, earth science, and astronomy. In addition, his activities ranged from founding a yearbook to member of the board of Trustees for Far Hill Country Day School. Prentice spent a couple of additional years in New Jersey as an education director for the American Littoral Society. His efforts in the state were recognized by the Governor's Award for Excellence in Science Education.
From 1974 to 1995, Prentice served as marine education specialist for the University of Rhode Island's Graduate School of Oceanography. In this position he conducted classes for all ages on local marine flora and fauna, he presented public lectures illustrated by his own photography. and he authored several articles on science education, marine topics, and natural history. For example, his book, Lands of Fire, presents the natural history of the Potowomut River estuary, in East Greenwich, Rhode Island. While in Rhode Island, Prentice served as naturalist and lecturer for Save The Bay; he was President of Biological Media Services, a non-profit company dedicated to science education and he was executive director of the National Marine Education Association for four years and editor of its journal.
As a staff member at the National Audubon society Camp in Maine, he worked with Helen Gere Cruickshank, a respected naturalist and bird photographer, to learn natural history photography. He has shared his photographic talents with more than 50,000 adults and young people during his presentations. In recent years, he and his wife Patty have guided natural history trips to the Galapagos Islands, Costa Rica, Botswana, and elsewhere. His photographs of these locations and in Norway, Ireland, Scotland, Turkey, and the Yucatan have enhanced his professional lectures. Currently, Prentice is enjoying his retirement and researching a book on the human and natural history of Point Judith Pond in Wakefield, Rhode Island. Recently, he produced the video This Place of Quiet Waters. He continues as a member of several boards in the area and with his enthusiastic, humorous lectures on nature.
Candace Oviatt is a professor at the URI Graduate School of Oceanography and serves on the RINHS Board of Directors.