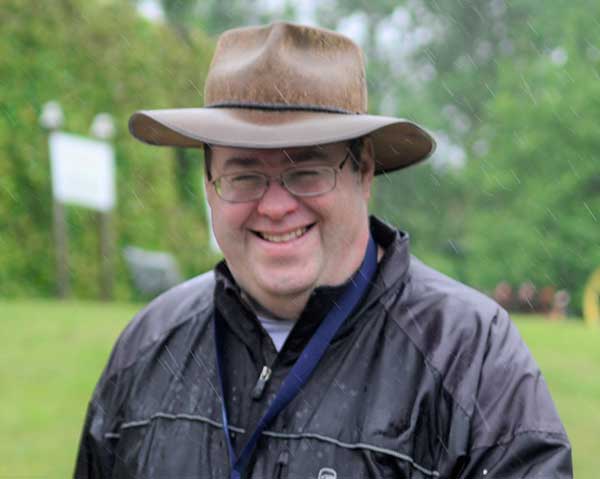 Mike Kieron called himself an "enthusiastic" museum curator and truer words were never spoken. First as a volunteer at the Museum of Natural History in Roger Williams Park, Providence, then as an hourly employee, finally as the curator responsible for the collections and much of the museum's academic mission, Mike threw himself into the many sub-fields of natural history the job involved with an enthusiasm that rose from his personal love of the natural world and radiated out of him to affect everyone who knew him. In this he epitomized the word "naturalist."
Mike served on the Board of Directors of the Natural History Survey from 2014 until his unexpected passing in 2018. A geologist by training, for the Survey, he led the work of our Collections Committee, contributed with growing expertise to the annual BioBlitz spider team, and provided monthly updates on a staggering range of natural history sightings.
His impact on the natural history community of Rhode Island and the lives of all who knew him has been profound and lasting. He was a talented wildlife photographer and many appreciated his images, often meticulously annotated, on the Natural History Museum's Facebook page and the Facebook page devoted to Rhode Island butterflies and moths, as well as others.
Many were touched by his humor, his kindness and his eagerness to share his passion for the natural world. Whether you encountered Mike at the museum, where he led gallery tours, organized exhibits, accessioned donations, conducted school programs, and kept the staff in good spirits with his great sense of humor, or participated in one of his bird walks, geology field trips, or butterfly walks, you would have been inspired to learn more about the natural world.
Michael Kieron was a graduate of the University of Rhode Island with a Bachelor of Science in Geology and Geological Oceanography and awarded the University Academic Excellence award. He started as a volunteer at the Museum of Natural History at Roger Williams Park, Providence, while he was in high school. As a volunteer at the Audubon Society in 2007, Mike organized and cataloged the Society's geology collection and was able to pinpoint some fossil and mineral specimens precisely. After graduating from URI, Michael moved on to become the Museum of Natural History's Assistant Curator in 2005 where he was mentored by long-time curator Marilyn Massarro. He became the Curator of Collections in 2013 following Massarro's retirement. Mike energetically organized and in many cases rehoused several important collections including bird eggs, insects, and geology. In processing the insects, he meticulously cross-checked identifications and collections records, finding several important specimens "hidden" in the collection. He compiled notes on Alaskan kayaks and African taxidermy, created a steady and diverse stream of "What's This Object" posts for the museum Facebook page, and designed and installed exhibits on many subjects.
As well as serving on the board of the Rhode Island Natural History Survey, he was a member of the Rhode Island and Boston Mineral Hunters. He belonged to the Audubon Society, the New England Micro Mounters and numerous mineral and nature organizations.
---