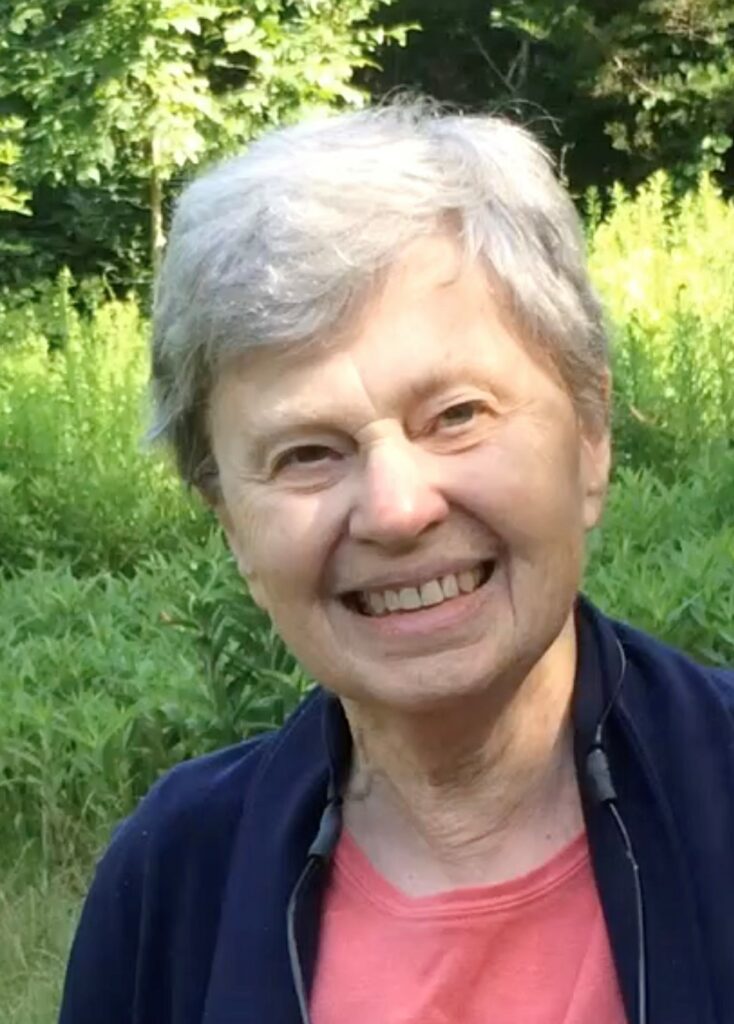 Mabel (Sindy) Hempstead (1925-2020) is the recipient of the 2021 Rhode Island Natural History Survey Posthumous Distinguished Naturalist Award. Sindy was 66 years-old when she left retirement behind to become an accomplished botanist, sought-after field trip leader, mainstay of the Rhode Island Wild Plant Society, water quality monitoring volunteer, and expert on the ecology and physiology of the fragrant waterlily (Nymphaea odorata). In all this and more she added significantly to our knowledge of the natural history of Rhode Island.
Watch a video of the award being made to Sindy's four children, via Zoom, with remarks from them about their mother's life and natural history activities.
Even at four years of age, Hempstead had a fascination with aquatic plants—as evidenced by a 1929 photograph depicting her admiring a waterlily look-alike plant (Nelumbo) while sitting in a boat on a lake. After growing up in Aurora, Illinois, 60 miles west of Chicago and Lake Michigan, Sindy headed north to the University of Wisconsin for a Bachelor of Arts degree focusing on chemistry and education. Her first Master of Science degree followed at the University of Minnesota.
Sindy Hempstead's long and varied working career included teaching math and science in Wisconsin before her University of Minnesota degree, working at the Woods Hole Oceanographic Institution, raising four children after moving to Rhode Island, teaching math and science at the Davisville Middle School and Rocky Hill School, and later, rising to the challenge of more fully testing her chemistry skills, by taking positions in industry at two companies, one of which was the National Chemical Company.
Entering the graduate program at URI for her second Master of Science degree, Hempstead immersed herself in the demanding field studies, data synthesis, and thesis writing that were the essence of her waterlily research. Daunting as it was to study waterlily beds in multiple ponds—with floating quadrats—from a kayak, Sindy was in botanical, limnological heaven doing so. The probing questions she asked were insightful, and their numbers grew exponentially as her research unfolded. These new questions posed methodological problems, but Sindy reveled in the challenges of finding low-tech, high-reward solutions to these problems. More than a few of those solutions happened "with the help of a few trips to the hardware store," as she put it. Kid's swimming pools held waterlily experiments that sat on an elevated ledge on the south side of URI's Ranger Hall for several summers.
Hempstead finished her MS degree with a flourish: an absolutely superb thesis and defense in 1994 were followed by a paper based on her thesis and published in the international journal, Aquatic Botany: "Influences of water depth and substrate nitrogen on leaf surface area and maximum bed extension in Nymphaea odorata."
Leveraging her knowledge to support community based scientific conservation, Sindy Hempstead wrote articles, led botanical explorations, and served in leadership roles for Rhode Island Wild Plant Society and collected water samples and other data for URI Watershed Watch. The ponds she sampled over the years included, perhaps her favorite, Bull Head Pond in South Kingstown, favorite because it was within sight of a completely green, off-the-grid house she had built for herself. Sindy continued to pursue fieldwork until shortly before her passing, in 2020, at age 95, and many of her botanical field notes are now part of the Survey's archives.
In all her endeavors, Sindy Hempstead's approach was one of quiet joy—always game for a lively discussion about any topic that piqued her interest. She was a gentle presence, a consummate naturalist, a committed advocate for the environment, and most of all, an inspiration to all of us. There are countless significant notches in her kayak paddle, but it is the kayak paddler herself who made a difference with her life; a life full of endless curiosity.