At the RINHS Annual Conference in October, 1994, Dr. Irene H. Stuckey was the recipient of the first Rhode Island Natural History Survey Distinguished Naturalist Award.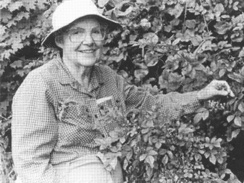 Dr. Stuckey is well known to the public for her beautiful photography, exemplified in her book Rhode Island Wildflowers, and for her years leading nature walks throughout the state. She has inspired thousands of people over the years, opening their eyes to the beauty and intricacy of the natural world. The scientific community is also familiar with her decades of work at URI's agricultural experiment station, where her research included work on food plants, forage and nursery crops, and pasture renovation. In later years at URI her work shifted to the conservation of native plants and saltmarsh ecology. Dr. Stuckey planned the trails at the Nettie Jones Nature Preserve on URI's Alton Jones Campus, and led walks there for over thirty years.
During the years since her 1978 retirement from the University of Rhode Island, she has continued to lead walks, write articles, give lectures, consult on wetland assessment and restoration projects, and add to her extensive slide collection. She is currently preparing a book on seashore plants, based on the 60-plus articles, "Plants Beside the Sea" which have appeared in Maritimes from 1975 to the present.
It was with great pleasure that RINHS chose Dr. Stuckey to receive its first Distinguished Naturalist Award.