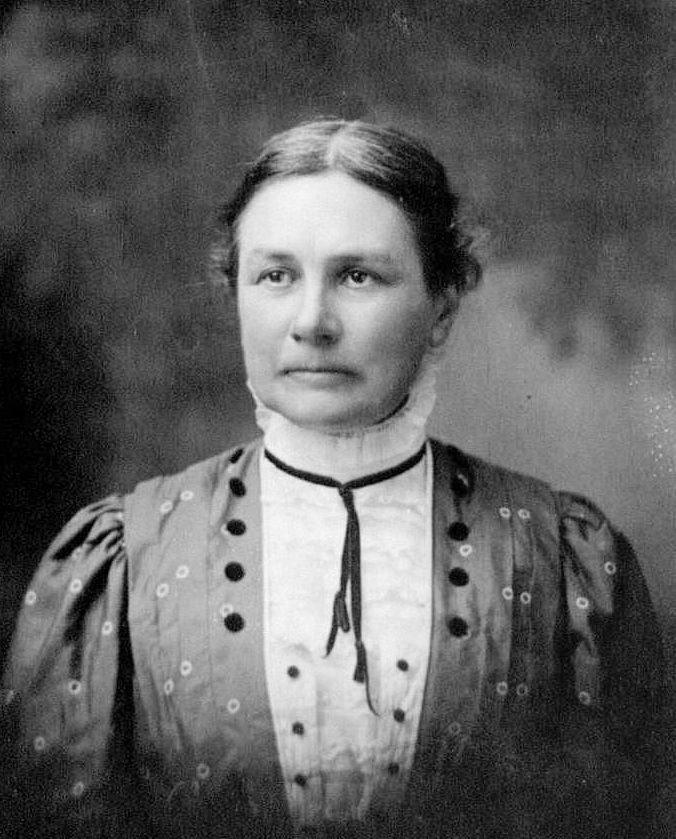 The Natural History Survey named Harriet Lathrop Merrow a Distinguished Naturalist, November 17, 2017, in part because of her remarkable accomplishments in botany at the fledgling University of Rhode Island, accomplishments which would have been noteworthy for anyone to have achieved, but they were truly exceptional for a woman at the turn of the 20th century in a field dominated by men. The Survey's recognition also came in part from a fear that Merrow and her works were being forgotten, at URI and almost everywhere, and the hope was that this award would help memorialize both a distinguished naturalist of Rhode Island and her works. The citation:
In January 1895, what was then the Rhode Island College of Agriculture and Mechanic Arts hired a 36 year-old botanist named H. L. Merrow to join a faculty in its infancy. A bold move? On the face of it, hardly. Yet bold it was indeed considering that the 'H' was not for Harry or Henry. It was for Harriet, a woman in a decidedly male-dominated institution and a male-dominated time. Of the 25 faculty that made up the entire College, 6 were women.
Born on 8 September 1858, Harriet Lathrop Merrow earned a Bachelor of Science degree in 1886 from Wellesley College, taught science at Plymouth High School in Massachusetts from 1887-1891, and then enrolled in a graduate program at the University of Michigan. Rather than complete a degree in Ann Arbor, she returned to Wellesley to earn a Master of Arts degree in 1893.
A second stint at the University of Michigan in 1893-94 as a Graduate Assistant in the Botany Laboratory readied her for what would be an academic position for the rest of her professional life; Professor of Botany at what is now the University of Rhode Island.
Harriet Merrow was recruited to establish a Department of Botany that would become a centerpiece in an emerging science curriculum. When she arrived in early January 1895, photos from that year revealed a campus that in its entirety consisted of three buildings and a treeless expanse as far as the eye could see. This was surely a far cry from the environs at Wellesley and Michigan, but it only got worse. Merely three weeks after her arrival, a massive fire took out College Hall, the building that housed both her classroom and her laboratory. To her credit, and most likely after wondering more than once what she had gotten herself into, Professor Merrow persevered and thrived at her newly adopted institution until her retirement in 1921.
In addition to teaching classes, Merrow collected plants wherever she went. The URI Herbarium retains over 250 specimens she collected just around campus. The campus being newly converted from farmland at the time, this truly represents exploration in a way it is hard to imagine today. In the summer of 1902, she studied botany at the Marine Biological Laboratory in Woods Hole and added herbarium specimens collected there to the growing collection in Kingston. In 1906, Professor Merrow was elected a Fellow of the American Association for the Advancement of Science.
Although her primary responsibilities were to offer courses to undergraduates and to develop a botanical curriculum, her taxonomic expertise in a fascinating group of organisms collectively known as the microfungi was her claim to fame outside of the teaching realm. Gymnosporangium clavariaeforme D.C., a fungus with the Stephen King-ready common name 'Tongues of Fire,' was the topic of her master's thesis. Fungi collected and preserved by Professor Merrow from Rhode Island, Massachusetts, and Michigan are housed in at least 23 herbaria in North America including the Farlow Herbarium of Harvard University, the University of British Columbia Herbarium, the Cornell Plant Pathology Herbarium, and the herbarium of the United States National Fungal Collections. The University of North Carolina Herbarium has even devoted a separate entry to the history and career of Harriet Merrow in its Collectors of the UNC Herbarium.
To more fully appreciate the considerable challenges faced by Professor Merrow in the late 1800s, it is sobering to consider that according to biographical materials in the URI Special Collections, her post-fire laboratory was a 'thrown together tar paper and board building" that was later covered with shingles. As an inducement to attract students to study parasitic fungi in the Botany Department, the College announced that "the laboratory is provided with a supply of dry and alcoholic material, and collecting fields for fresh material are near at hand." Such incentives pale in comparison to facilities and enticements offered to students and faculty alike in 2017.
When Professor Merrow retired 26 years after she stepped foot on campus, she was still the one and only member of the Department of Botany. Although her title was officially Professor, she was sometimes referred to as Miss Merrow in official College documents. A list of spring semester events noted that on January 14, 1897, "Miss Merrow gives the girls a lecture." A different time. A different world.
Professor Merrow passed away on 21 November 1941. Her extensive collections of plants and microfungi are a lasting legacy befitting a person who forged a successful career in the midst of 'miss-identification' and the struggles of an emerging institution. A true pioneer in every sense of the word, Professor Harriet Lathrop Merrow is the 2017 Rhode Island Natural History Survey Posthumous Distinguished Naturalist.
Keith Killingbeck, with David Gregg
27 October 2017