…for his tireless efforts to protect the Diamondback Terrapin and Rhode Island's estuaries, and to increase children's awareness of the wonders of the natural world.
Born in Winthrop, Massachusetts, Doug Rayner moved to Barrington in the 1930s. He was in his early teens at the time, and, with his new home on the periphery of Hundred Acre Cove, Doug soon began hunting, fishing, and trapping in this naturally bountiful area.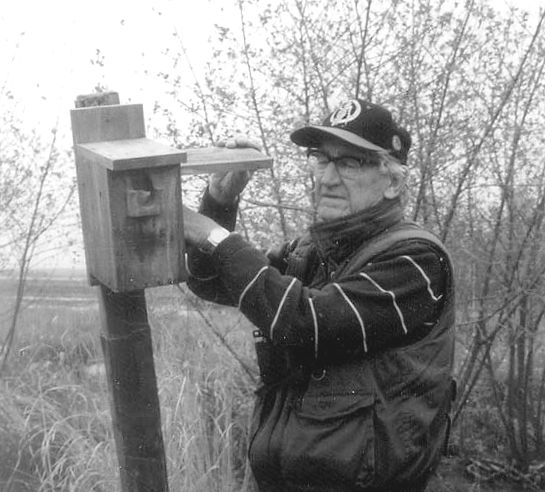 In his twenties Doug married Helen McCarthy, and together they raised four children-Michael, Douglas, James, and Susan. Doug went into business for himself, selling, installing, and repairing carpets, while always spending as much time as possible in the out-of-doors. Over decades, Doug transitioned from a skilled sportsman to a dedicated and accomplished naturalist/photographer.
Keenly aware of changes in wildlife populations occurring in the estuaries that had become so familiar to him, Doug became active in promoting environmental protection. He was a member of Barrington's first Conservation Commission, and was one of the members who made a statement by resigning in protest of the aerial spraying of chemicals for mosquito control. He subsequently participated in an effort that produced Barrington's Mosquito Abatement Plan, which remains in place to this day.
Doug was also one of the early members of the Barrington Land Conservation Trust, on whose Board of Directors he served for two decades. Throughout his tenure on the board he remained vigilant in rallying members toward the resolution of any conservation issue he felt compromised Barrington's natural integrity.
Doug's extensive knowledge of Barrington's estuaries was a key factor in attempts to preserve those same resources. He was instrumental in organizing the Pokanoket Watershed Alliance in the 1980s, a body formed to improve the quality of water flowing downstream into Barrington's salt rivers. Over the next two decades, Doug spent hundreds of hours spearheading efforts of Barrington and Seekonk conservation organizations, Save The Bay, the Rhode Island Department of Environmental Management, the Environmental Protection Agency, Mobil Oil, and other organizations in pursuing East Bay estuarine water-quality issues. Indeed, Doug earned a far-reaching reputation among those entities for his persistence in putting the quality of our salt rivers before anything else.
Also in the 1980s, Doug recognized the significance of Barrington's population of the Diamondback Terrapin, and began, and continues to participate in, an ongoing study of that population in which scores of nesting females each year are captured and marked in an effort to monitor the health and status of this unique resource. This pioneering work led to the declaration of the terrapin nesting site, Nockum Hill, as a Town Wildlife Preserve, and during the past year the preserve was aptly renamed The Doug Rayner Wildlife Refuge at Nockum Hill.
As a self-educated naturalist and wildlife photographer, Doug has worked tirelessly in teaching citizens of all ages the values of Barrington's natural resources. He was active in Bar-Zap, a local organization dedicated to clearing litter from our natural areas, and was also an advisor to Boy Scout troops for countless fishing and Eagle Scout badges. For more than a decade Doug visited the town's grammar schools to share his extensive knowledge of natural history with children, and these visits often included field trips during which Doug, in his true element, would introduce his young students to the wonders of nature. His easy manner and dry sense of humor especially endeared him to the youngsters.
Doug has been active in Barrington natural resources conservation efforts for over five decades, and there is little doubt that he has contributed more towards securing Barrington's natural heritage than any other single individual. He was, and continues to be, an inspiration to us all.