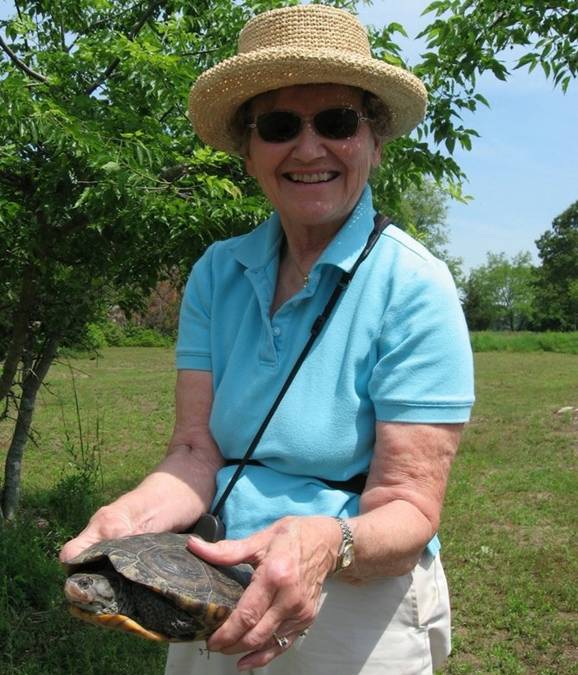 The 2014 recipient of the Rhode Island Natural History Survey's Distinguished Naturalist Award was Charlotte Sornborger. Sornborger received her award at the annual Distinguished Naturalist Award Celebration on November 7, 2014, at the Quonset O Club in North Kingstown. The award was presented by Nancy Karraker, URI assistant professor of natural resources science and Survey board member, who wrote the following:
Tonight I feel very fortunate to be presenting the 2014 Rhode Island Natural History Survey Distinguished Naturalist Award to Charlotte Sornborger. A naturalist is a person who studies and appreciates nature. Charlotte is the embodiment of a naturalist, as she has spent her life learning about the natural world around her. However, although Charlotte certainly cherishes that knowledge, she does not hold it close. She has graciously shared all she has learned with hundreds of people and has effectively used that information to protect the environment. Charlotte is highly regarded as a scientist, teacher, and passionate conservationist. And most remarkably, much of what Charlotte has accomplished has been as a volunteer. With this award, Charlotte joins her mentor Doug Rayner and grandfather Harold Gibbs as a Rhode Island Distinguished Naturalist.
Charlotte attended Mount Holyoke College and graduated in 1958 with a degree in zoology. During her career, she taught chemistry, biology, and earth science in high schools and junior high schools. Many of us know some aspect of Charlotte's activities to promote conservation, but her efforts to help others connect with nature and to conserve natural lands in Rhode Island are expansive. Although she has made many contributions over the years, two efforts, each spanning over two decades, beautifully illustrate what natural history means to her and define her as a prominent force for preserving nature and its values in Rhode Island.
Charlotte is a land baron. You probably didn't know that but it is true. A land baron.
From 1986-2003, Charlotte served as President of the all-volunteer Barrington Land Conservation Trust. With Charlotte at the helm, the Barrington Land Conservation Trust acquired over 100 acres including the 18-acre Pic-Will Nature Preserve and the 28-acre Johannis Farm Wildlife Preserve. During that time, she doggedly worked to acquire every available and suitable property in the Town of Barrington, which numbered over 40, and launched capital campaigns to ensure that enough funding was available for their purchase. She deftly worked with the Barrington Town Council and the R.I. Dept. of Environmental Management (RIDEM) to usher these lands into protective status. Charlotte continues to serve on the Board of the Barrington Land Conservation Trust and continues to contribute to the great work being done by that fine organization.
Charlotte is Rhode Island's crusader for the diamond-backed terrapin. For 25 years, she has led the Nockum Hill Terrapin Population Study in Barrington. This is the only substantial nesting site for diamond-backed terrapins in Rhode Island and the protection of this site matters because terrapin populations along the eastern seaboard have been declining for decades. This project requires extensive field work with daily searches for nesting terrapins in June and July and monitoring of nests for hatchlings in August and September. Each year for 25 years, Charlotte has assembled a volunteer crew to help with this work, has trained the crew, has managed data collection, and has helped coordinate vegetation management around the site to keep nesting areas clear. In 1990, the first year of the project, Charlotte and her crew marked 78 individual terrapins coming up to nest at Nockum Hill. In 2012, she documented 175 nesting terrapins, with similar numbers since. Surely, Charlotte and the other hard-working volunteers have honed their survey skills over that time but through her efforts at Nockum Hill and by educating others about the terrapins in Barrington, certainly the terrapin population has benefitted. Charlotte continues to serve as an ambassador for terrapins in her local community and also has played an important role representing Rhode Island in Northeast regional terrapin meetings.
Charlotte has served as a mentor and role model for scores of people by sharing her love of nature and encouraging others to get involved in conservation. From hyperactive school children to tired college students to curious working people to reinvigorated retirees, Charlotte's gentle personality and extensive knowledge have enabled her to reach people from all walks of life. Many of the young people who Charlotte has taught and mentored have pursued careers in conservation. And her example reminds some of us older people that we still have so much to learn.
Charlotte's passion and energy seem to be boundless. In addition to her work with the Barrington Land Conservation Trust and the Nockum Hill terrapin population, Charlotte has served as President of the Audubon Society of Rhode Island, as an Osprey Monitor for RIDEM and the Audubon Society, developed a "Wetlands Alert" system used by the Conservation Commission and the Barrington Town Council to identify wetlands for land-use planning, and fought to ensure that 150-foot protective buffers would be established between developments and the Hundred Acre Cove estuary. Just how she has managed to do all of this while raising three kids, including one rocket scientist, being a good partner to her husband Martin, and providing a delectable array of baked goods at nearly every meeting is anyone's guess. Charlotte, you set an incredible example.
The great environmentalist and author Wallace Stegner said, "Every green natural place we save saves a fragment of our sanity and gives us a little more hope that we have a future."
Charlotte, you have saved many green natural places in the state and you have given us hope that there will forever be such places. I think I can speak for many in the room when I say that you are a Rhode Island conservation hero. You have done so much for the environment in the state, for the terrapins, the bluebirds, the osprey, and the salt marsh. Thank you for all of your efforts to protect these places and the plants and animals they harbor and for reminding us about the importance of natural history. You are truly a distinguished naturalist.