Ever observant of Rhode Island's biota—mammals, insects, plants, and much more; a thoughtful mentor to students and volunteers.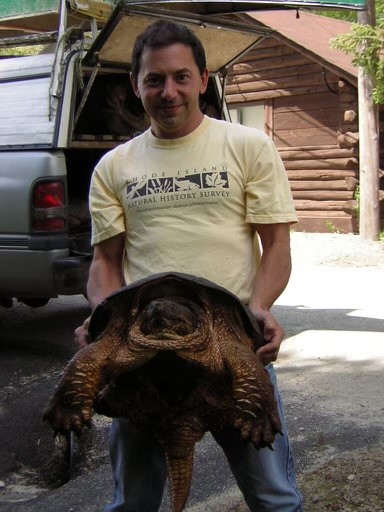 Charles F. "Charlie" Brown retired in February 2022 from the RIDEM Division of Fish and Wildlife, where he was the expert on all things mammalian. If you Google his name, even adding "Rhode Island" and "mammals" to cut down on the Peanuts cartoons, you will still get over 4 million hits. Many are links to news stories from the papers or TV stations where he was quoted as the expert on coyotes, bats, fishers, bears, foxes, bobcats, pumas . . . and that's only from the first page.
Charlie grew up in Barrington, where he still lives today. He credits his family and the local environment for instilling his love for the natural world. He recollected during his remarks accepting the award that every boyhood hour not spent in school or at the dinner table was spent outside—fishing, trapping, and exploring. He fondly remembers fishing with his dad, trips with Uncle Frank to Thomas Delsanto's taxidermy shop in downtown Warren, his parents driving him up to the old Audubon office in Providence, or his mother driving him and his friends to Echo Lake or Bicknell Pond to catch turtles (and re-paying her with a bag filled with 18 garter snakes).
Charlie graduated from URI in 1985 with a bachelor's degree in Natural Resources, although he claims that he "just barely got through." He worked as a Forestry Technician with the US Forest Service and at a variety of other jobs, including landscaping, before being hired by the Coastal Resources Management Council as a wildlife biologist in 1990. He moved over to the Division of Fish and Wildlife as a wildlife biologist in 1998, where he served as the principal furbearer biologist for the next 24 years. He also worked on other programs, including bat research, wildlife rehabilitation, and nuisance wildlife control. During his comments while presenting the award, Todd McLeish recalled meeting Charlie at the first volunteer meeting for the dragonfly atlas in the late 1990s. Although Todd wasn't sure whether Charlie was just a regular volunteer or if he and Ginger were already together, but it was very soon clear that he knew a lot more than the rest of the volunteers, and about a lot more than dragonflies. Todd later volunteered on Charlie's mammal projects, such as counting and mist-netting bats, and often turned to him for his expertise when writing stories about mammals. Todd especially loved visiting Charlie at his office because Charlie had the most amazing collection of Rhode Island mammal skulls—like being in an especially dusty museum.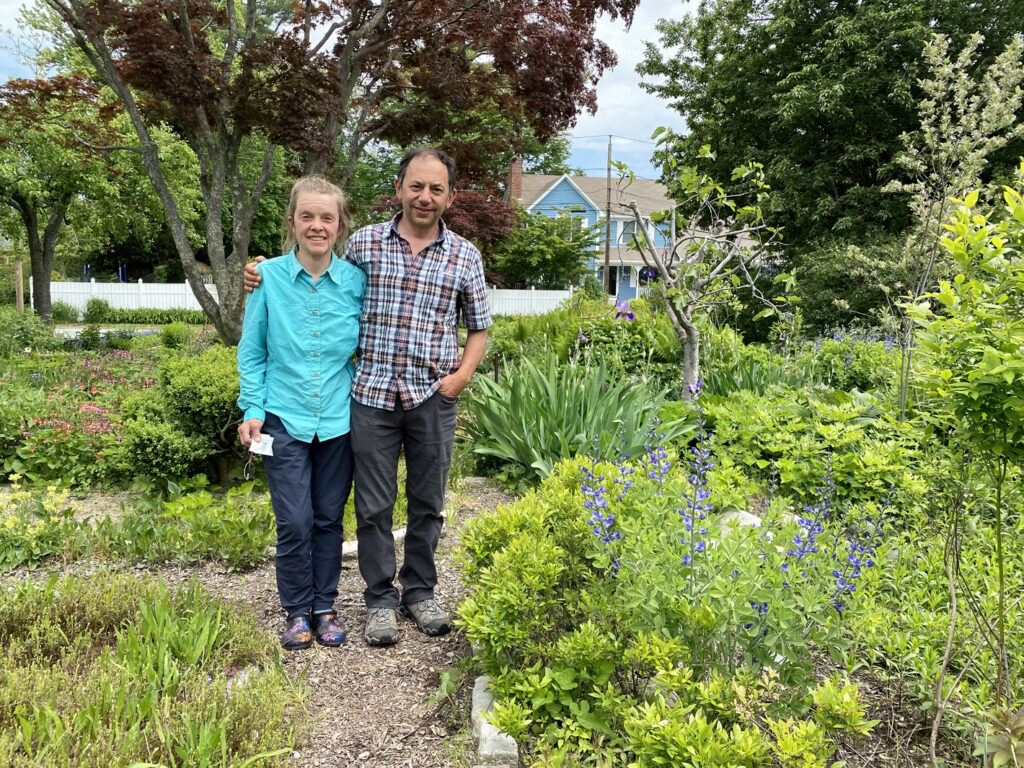 During the award ceremony, Survey Board member Don DeHayes read a letter of support written by Mike Thomas from the Connecticut Agricultural Experiment Station. He called Charlie and Ginger "two of the best naturalists I know and terrific field companions." That was typical of the remarks heard that evening—Charlie and Ginger have been married and working together long enough that it can be difficult to talk about only one of them. (In her acceptance remarks, Ginger said that Charlie was the best naturalist she knew.) Mike's letter recounted how Charlie and Ginger started collaborating over 20 years ago on a study of the diversity, distribution, and abundance of robber flies in southern New England. Despite his expertise in mammals and hers in dragonflies, they took on a very poorly known insect family at a time when field guides and on-line identification resources did not exist. In that time they have collected over 2,000 voucher specimens from Rhode Island, comprising 63 species, 27 genera, and 8 sub-families.
In accepting the award, Charlie was typically humble, saying that the credit really belonged to everyone who had helped him along the way—family, friends, teachers, co-workers, friends, Mike Thomas, George Seavey (original staff member at the Coastal Resources Center), and Chris Raithel (former RIDEM rare species biologist and 2019 RINHS Distinguished Naturalist). Charlie especially appreciated what an honor it was to come back to URI and work on collaborative research with his former professors and their students.