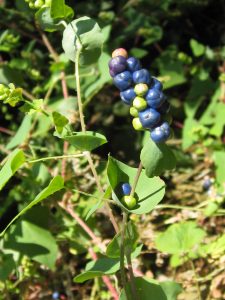 Quick link to RIISC list of invasive and weedy plants of Rhode Island
Lists of Rhode Island invasive species made for various reasons and exhibiting various subtleties can be found in the Resource Library, keyword "invasive".
An invasive species is any species of animal or plant that is:
introduced to a country or region where it is not native (it is "alien" or "exotic");
is reproducing and spreading without the aid of cultivation (it has become "naturalized");
harming one or more native resources such as species, habitats and natural communities, or ecosystems.
Invasive species cross-cut many parts of the Survey's mission, from conservation land stewardship to wetlands monitoring and from biodiversity management to native plant promotion. Invasive species may also impair non-biotic conservation values that are intrinsic to a particular parcel of land, such as aesthetics, cultural landscapes, or recreational use.

RI Invasive Species Council

The Natural History Survey chairs the Rhode Island Invasive Species Council, a voluntary collaboration among organizations with substantial interests in the prevention, documentation, and management of invasive species in the state, originally created in response to the 1999 U.S. federal Executive Order on invasive species. RIISC's mission is to gather and convey information on the presence, distribution, ecological and economic impacts, and management of invasive species; promote uses of native species and non-invasive alternatives throughout Rhode Island; and work cooperatively with researchers, conservation organizations, government agencies, the green industries, and the general public to identify and manage invasive species pro-actively and effectively.
Goals of Rhode Island Invasive Species Council include:
to protect native biodiversity;
to conduct scientifically based assessment;
to promote the use of native and non-invasive non-native alternatives;
to manage and control invasives in minimally-managed habitats;
to encourage research on control methods;
to develop assessment methods for potential invasiveness;
to educate the general public;
to work cooperatively among all involved parties.
The Rhode Island Invasive Species Council is an outreach program of the Rhode Island Natural History Survey, The Rhode Island Agricultural Experiment Station, and The University of Rhode Island Cooperative Extension.