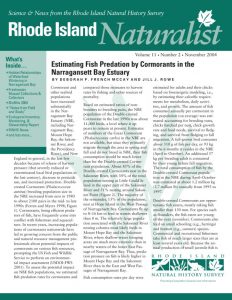 The Rhode Island Naturalist is the bulletin of the Natural History Survey. Its purpose is to make information on the state's natural history more widely available. Published twice yearly, in spring and fall, it is a place where academics, amateur naturalists, and students can publish their research and the history of natural history in Rhode Island can be memorialized. The focus of the Rhode Island Naturalist is scientific research papers or shorter research notes; however, it also includes histories, essays, and reviews, biographies and even poems, photographs, scientific illustration, and art.
Issues of the Rhode Island Naturalist are available in the Resource Library, keyword "bulletin".
Submissions of all types are sought by the editors. Deadline for the Fall issue is July 31, deadline for the Spring is January 31. Contributions on Rhode Island natural history are welcome, including:
• Descriptions of specific taxa;
• Results from field research;
• More informal field observations or "notes from the field;"
• Photos with short explanatory captions or "photos from the field;"
• Descriptions of natural history collections and databases;
• Profiles of prominent Rhode Island naturalists, historical or contemporary;
• Reviews of recent books related to Rhode Island natural history (plants, animals, habitats, geology, hydrology, soils, etc.);
• "Focus on…" pieces featuring one of the Survey's member organizations;
• History of natural history;
• Other photos, art, maps, or diagrams informative of Rhode Island's natural history;
• Any other information of interest to the ecological/natural history community.
Rhode Island Naturalist Author's Guidelines (PDF)
The Survey published its bulletin bi-annually from September 1994 through Summer 2007 on old-fashioned paper, initially under the title RINHewS. Beginning in 2013, articles appeared one at a time in the form of a blog on the Survey's website. In 2020, the Rhode Island Naturalist was reinstated as an edited bulletin, initially published only electronically, in PDF form.